America…every little kid's fantasy, every nurse's dream.
It's no secret that nursing is one of the world's most rewarding careers. From hospitals to rehabilitation facilities to ambulatory clinics and home care, nursing professionals are always in high demand. Yet, thousands of Filipino nurses migrate to the United States of America (USA) yearly. We represent the largest share of America's 512,000 immigrant registered nurses, at 28 percent–and this figure is even more likely to be an undercount. Who's to blame them when better pay, career mobility, and working conditions are promised? 
If you're a nurse who's dreamed of a new life in the big apple, then you're one OF the million. Here are the top 5 reasons why the USA is the ultimate dream destination for nurses:
Excellent Salary
Of course, this goes to the top of the list! The USA isn't called the "Land of Milk and Honey" for no reason. Most, if not all, healthcare organizations offer US Registered Nurses (RN) prevailing wages and benefits so that you get to earn comparable earnings to your American nurse counterparts who work in similar specialties and locations. That only means Filipino nurses are highly valued and very much in demand. According to the U.S. Bureau of Labor Statistics (BLS), in 2019, R.N.s earn a median annual wage of US$73,300 (around PHP4.3M). This makes the USA one of the highest-paying countries in the world for nurses.
Progressive Career Development
With plenty of room for advancement and various career paths to pursue, nursing careers in the U.S. offer exceptional job security. USA employers offer nurses contracts for up to 30 months or 2.5 years assignment in a hospital with the possibility of permanent placement. With the American healthcare system being a privatized medical system, hospitals and organizations continue to invest resources into their staff to ensure that they are always up to date with current knowledge and skills pertinent to your success as a Registered Nurse! From nursing and medical conferences, educational seminars, and access to your organization's online database of academic material, you will have every opportunity needed to continue to learn and grow in your role as a U.S. Registered Nurse.
Green Card
The permanent residency visa or the green card applied for by your employer enables you to remain in the country indefinitely. Once an EB-3 (green card) visa is approved, your family members, including your spouse and children below the age of 21, can also go to the USA. In other countries, you need to reach a certain salary bracket or position to be granted similar benefits.
Optimized Working Conditions
To continuously improve staff and patient experience, healthcare organizations are putting a primer on working conditions for Registered Nurses in the US. Quality patient care outcomes, state-of-the-art technology and equipment, and highly educated and experienced interdisciplinary teams are among the highest priorities for many healthcare organizations in the USA. The USA is home to one of the most advanced healthcare systems in the world leading with both patient choice for medical treatments and medical science and technology innovation. With access to the best medical treatments and care, as a U.S. Registered Nurse, you will be a part of the incredible and innovative treatment that is being offered to the patients and communities that you will care for, often before any other country in the world!
401(k) or 403(b) Retirement Plan
Registered Nurses in the U.S. are entitled to a comprehensive 401(k) or 403(b) savings plan. Your employer automatically deducts monthly installments from your gross salary. This helps you to save cash and earn interest during your working years, meaning you will have money for your retirement. Best of all, these savings are exempt from tax.
Want to enjoy the benefits of being a USRN too? You can! That's because GooZam now matches Registered Nurses with international nursing jobs in US hospitals and healthcare facilities. We work with premiere American healthcare facilities to offer careers for a variety of healthcare professionals. We also have entire teams of experts dedicated to your success in the USA. All cases will be handled by competent and experienced recruitment professionals who are affiliated with GooZam. These professionals consist of lawyers, licensed paralegals, and consultants.
---
Ready to pursue your American dream? Your next nursing job could be in the USA! Take the first step toward your new life and a new career.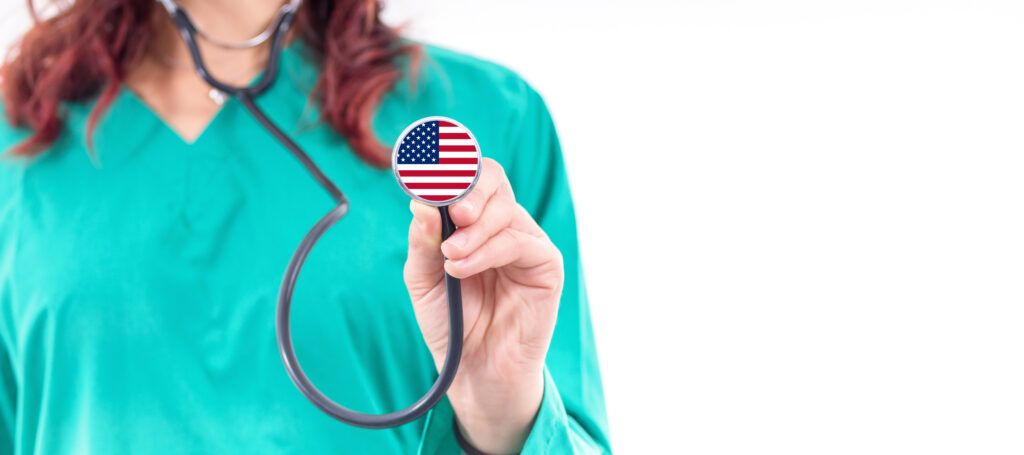 Apply now!